Strategize effectively. Prototype efficiently. Consider every idea. These are the goals that have guided the efforts of our team for the past six weeks, and as we put the finishing touches on Miss Daisy XV this week in preparation for bag day, I can safely say that we've achieved all of our objectives, and the results are spectacular!
We began build season with two new subteams, a slew of new
sponsors, and a handful of new coaches, in addition to many new team members, and of course, a new game. Like any season, the weeks were a flurry of detailed strategic analysis, prototype development, and assembling completed components, but 2016 provided several important distinctions concerning the way we spent our time, and those made a world of difference.  
Students had opportunities this season that had never been afforded to them before; like the chance to join the newly minted Strategy subteam, and conduct second-by-second analysis of how the team would execute on its goals during each match, or the chance to opt for a more "hands-off" position and oversee multiple undertakings at once via the Project Management subteam. These new additions combined with other important changes to create a build season whose pace was familiar, but whose activities were far more focused and productive.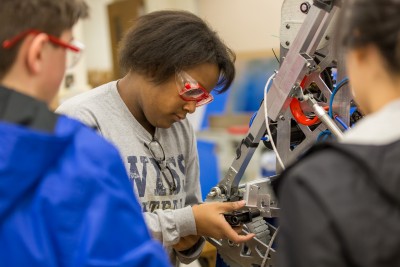 Shifting our focus allowed us to find ourselves in a few positions that we've never been in before. Many times, the team was ahead of schedule due to effective work distribution and project management. For the first time in team history, we were able to execute on one of our longest running goals; to produce two complete robots. We also managed to drastically improve the quality of our robot in comparison to previous seasons due to a combination of new fabrication resources, and quality control when assembling subsystems.

However, perhaps the most important changes that have taken place have been the least tangible. Many students have commented on the sense of community and ownership that they feel when they arrive at the robotics workshop, and the amount of open communication and civil debate among team members and coaches of all ranks has been incredible this season.
Overall, this build season has been a transformative one for Team 341, and we look forward with high aspirations to our first event, the MAR Hatboro-Horsham District, in just six (!!!) days.  Good luck to all teams, and congratulations on finishing another build season.  
Let the games begin!