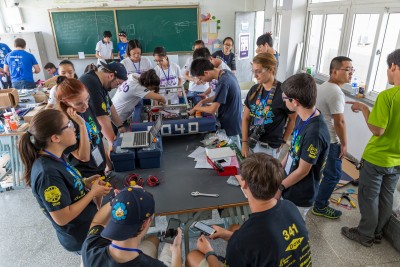 AMBLER, PA – August 22, 2016 – The Wissahickon HS FIRST® Robotics Team, Team 341, returned last week from an international outreach effort in China. The team, known as "Miss Daisy", visited China from August 3-15. Students from Wissahickon and students from China came together during a 3-day Robotics Maker Workshop and a 4-day FIRST® Robotics Competition. The objective of these events has been to build up FIRST® Robotics in China, teaching Chinese students the value of teamwork, and that science and technology can be fun.
The Robotics Maker Workshop was held at Fengxian Secondary Specialized School in Shanghai, China. Teams from all over China came to be mentored by 15 international FIRST® teams from the United States of America, Israel, Canada, Brazil, and Australia. Invited international teams helped 20 Chinese teams add functionality to their existing robots for this year's FIRST® Robotics Competition challenge, FIRST® STRONGHOLDSM. Team 341 mentored two Chinese teams: Team 9036, Zodiac and Team 9040, Flash.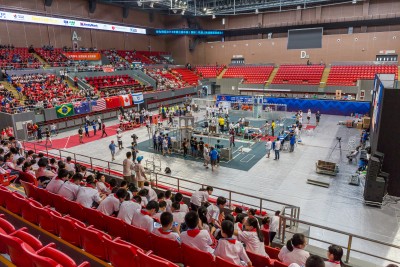 The China Robotics Challenge (CRC) followed the Robotics Maker Workshop, allowing the Chinese teams to put their designs to the test and participate in their first true FIRST® Robotics Competition. The competition was held in the newly-constructed Jiading Sports Centre in Shanghai, China.
Two elimination brackets were played: one for all 56 teams competing, and one for just Chinese teams. Team 341 placed 12th overall, with 7 wins in 10 matches, and finished as CRC semi-finalists. The team was also honored with the 2016 CRC Inspiration Award to acknowledge the team's efforts to help Chinese teams during the Robotics Maker Workshop. One of the team's Miss Daisy mentored, Team 9036, also finished as semi-finalists during the Chinese elimination bracket.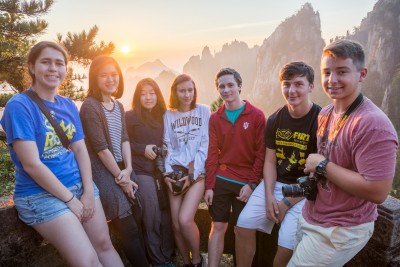 Wissahickon students learned about Chinese culture and the lives of Chinese students, making many friends along the way. The team visited ancient villages, the historic Yellow Mountains, and the beautiful sites of Shanghai. It was a mind-opening experience for every student and adult on the trip.
International teams received financial support from the China Urban Youth Robotics Alliance (CUYRA) and Dadalele. CUYRA organized the Robotics Maker Workshop and CRC, in its 3rd year. It was announced on the last day of CRC that an official FIRST® Regional will be taking place in Shenzhen, China next March.
About Team 341 and FIRST®
Team 341 is a FIRST® Robotics team out of Ambler, Pennsylvania. The team was founded in 1999 and is an after-school activity designed to inspire young people to pursue careers in mathematics, science, and technology. In 2010, Team 341 was recognized as a role model team and was entered into the FIRST® Hall of Fame. The team is known world-wide as a leader in Science, Technology, Engineering, and Math (STEM) outreach. Alumni of Team 341 are improving our world at Google, SpaceX, Microsoft, Lockheed Martin, and Boeing.
For Inspiration and Recognition of Science and Technology (FIRST®) was founded in 1989 and is based in Manchester, NH. FIRST® is a 501(c)(3) not-for-profit public charity designed to inspire young people's interest and participation in science and technology, and to motivate them to pursue education and career opportunities in STEM fields.
For more information, visit: www.team341.com
Contact
To learn more, please contact:
Kirsten Jahn Richardson, Head Coach
Wissahickon HS, 521 Houston Road, Ambler PA 19002
Phone: (215) 650-7341
kirsten@team341.com