On November 12, 2011, Team 341 held the fourth annual Girls in Gear®, a Girl Scout STEM (Science, Technology, Engineering, and Mathematics) education program, at Ramp Riot. There were five stations set up at Girls in Gear®, including FRC® robot driving, FRC® robot parts, observing the FRC® and FTC® competitions, a demonstration by the organization STEM Robotics, and an area where girls had the chance to talk to women in STEM careers. Our enthusiastic female speakers panel have represented a variety of engineering disciplines including a Systems Integration Engineer, and a Mechanical Engineer, Proccess Engineer, Software Engineer, Manager of Lab Services, and Quality Engineer.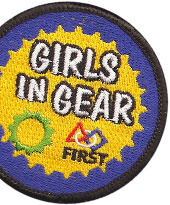 In just four years, the Girls in Gear® program has introduced over 220 girls, ages 5-14, to careers in technology. We have also gotten positive feedback from our community. One troop leader stated that, "I thought the program was well put-together… There was a good variety of hands-on workshops for the girls." A parent with an older girl said that they attended Girls in Gear®, "for fun, connections, Gold Award, college hunting, and career planning." Upon leaving, we gave each girl a parent education document that described avenues to continue to promote informal science/technology learning experiences for their children.
In August of 2009 we released a kit of materials whose purpose was to help teams conduct Girls in Gear® in conjunction with local robotics events. We have posted the white pages for this kit on Chief Delphi and are looking forward to helping teams across the country run the Girls in Gear® Program.