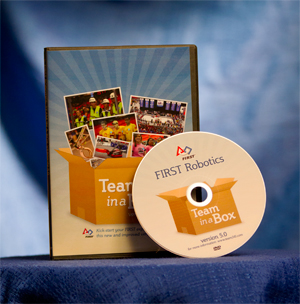 The Team in a Box project was a student-developed video training DVD created in April of 2004. Its main mission was to raise awareness about what FIRST® is and to guide rookie teams through their inaugural year. In 2004 not many resources of this nature existed and Team in a Box paved the way for team-developed FIRST® education. It was graciously sponsored for many years by AndyMark.
The last version, version 5.0, was produced in 2010. In 2013, it was decided by our team that we would halt production of this project to focus on other ways to help the FIRST® community. For now, Team in a Box will live on via YouTube. For more FIRST® Robotics Competition resources, please visit the official FIRST® Resources page.
Team in a Box Testimonials
Team in a Box helped FIRST® teams get started for over 6 years. During this time we have collected some nice notes from happy DVD recipients:
---
I think your Team in a Box is a great idea and invaluable resource for teams, rookie and veteran alike. We are a rookie FTC team in Carlsbad, CA and would like to learn more as we are considering to transition into an FRC team by year 2 or 3 so more students can be part of the team.
— Anna Lozar, Carlsbad CA, #5015, 12/16/11
---
I'm entering my 5th season with FIRST on Team 2656. I've been head coach since 2010. I really like Team in a Box and intend to show it during our early season meetings to help our mostly-new team understand what to expect as a member of a FIRST team. I love version 3 and can't wait to see what's new in version 5!
— Sean McMahon, Monroeville PA, #2656, 8/11/11
---
We met members of your team at ISTE 2011 in Philadelphia. We would love a copy of your CD. The two young men I talked with were wonderful! Keep up the great work!
— Tammy Seneca, Port Allen Louisiana, 7/1/11
---
"Had a great success using your Team in a Box when starting 2813."
— Rick Riccardi, San Jose CA, #2813, 9/01/10
---
"We appreciated your wonderfully informative DVD, and it can definitely be considered one of the reasons we were so successful this year!"
— #3123, 3/18/10
---
"I think your offer to new teams is a really great embodiment of the Gracious Professionalism™ referred to so often on the FIRST® website."
— Sawyer Brooks, Sandy UT, #3245, 10/28/09
---
"We used the Team in a Box for a successful rookie year, qualifying for championships as Rookie All-Star from the Lone Star Regional."
— Linda McMahon, Austin TX, #2468, 3/03/09
---
"Thank you for the great DVD."
— Anne Torige, Honolulu HI, #3008, 1/13/09
---
"Thank you very much for Team in a Box! It is extremely helpful! This first year is going to be very challenging but your DVD will make it easier. Thank you and good luck!"
— Nolan McPeek-Bechtold, Belmont California, #3034 1/05/09
---
"Thanks to you guys for making this DVD available – true Gracious Professionalism™!"
— Glenn Frable, Stanwood WA, #2903, 12/15/08
---
"We really appreciate the help and support that your team is offering to others."
— Bebi Davis, Honolulu Hawaii, #2504, 12/10/08
---
"My Team in a Box just arrived in the mail, and I think that it is so valuable that I would like all of our rookies to have their own copy."
— Denise M. Lewis, District of Columbia FIRST® Senior Mentor, 10/30/08
---
"You give the information that overcomes the fears of the Rookie Team. You are doing a great job and best of luck in the future with your outreach program."
— George O. First, Arizona Regional Director, 6/28/08
---
"I really appreciate Miss Daisy making this available for teams like us."
— Kathleen Callow, Pitman NJ, 5/29/08
---
"What a wonderful idea your team had — to create this! THANK YOU for being so helpful!"
— Sandra Hodge, Chula Vista CA, #2599, 1/20/08
---
"Thanks for putting this together and being so 'gracious'! The DVD is a great help."
— Mark Anderson, Oswego IL, #2338, 1/02/08
---
"Thank you for making Team in a Box available, and we are truly gracious for all of the work put into this."
— Sandra Bruesch, Cerritos CA, #1135, 8/20/07
---
"This has been a very useful tool for us to help alleviate the 'cold feet' that many prospective team leaders get – not only for all of the useful information it contains, but also as a powerful illustration of how FIRST® teams are the greatest source of strength for each other."
— Dee Tomczak, Assistant Regional Director Virginia FIRST®, 1/19/07
---
"With the help of the information from your DVD, as well as numerous other FIRST® resources, I was able to help found FRC® Team 2175."
— Kevin O'Connor, Woodbury MN, #2175, 01/11/07
---
"I just got my copy of the Team in a Box. This is absolutely wonderful! This is the perfect tool for us to use as we mentor other teams. Thank you and your team for creating this resource for the FRC® teams. I also want to thank you for including our information from Team 342. I am proud to see our team logo and information associated with this project."
— Mike Bryan, Charleston SC, #342, 12/13/06
---
"We got one of these when we were a rookie, and it was amazingly helpful! Now we are the veteran and are looking for resources to help start new rookies in our area (we're the only team in a 45 minute radius so we have lots of work to do!) and once again are turning to the team that made such a great "box" last time!"
— Beth Sweet, East Lansing MI, #1504, 11/1/06
---
"Thank you Mr. Ostrow and Team 341 for the Team in a Box DVD. I promise you, it will prove to be an invaluable resource for our Robotics Team."
— Sagar Verma, Orlando FL, #1694, 9/25/06
---
"Thank you very much for the Team in a Box. It looks like it will be very helpful for next year's team. It was a gracious offer for you guys to mail it out."
— Nawaid Ladak, Orlanda Florida, #1402, 4/04/06
---
"I just wanted to thank you so much, I look forward to FIRST®, despite the fact that right now it looks a bit overwhelming and intimidating. Thank you very much for your support."
— Bryan Andrews, Maple Valley WA, 2/28/06
---
"Thank you so much for the wonderful Team in a Box! I will be sharing it with all the potential teams I can and for sure the 50+ students in our Intermediate School teams! Thank you again and wishing you folks the best in robotics!"
— Suzy Sanxter, Hilo Hawaii, #828, 2/26/06
---
"Thank you very much for the DVD and the CD. They are very well put together."
— Lamin Dumbuya, #1769, 2/14/06
---
"I took the kit in to work and to show someone before I got to Philadelphia the next time… the kit has been circulating around my workplace since and has received MANY comments about the quality! Nice Job!!!"
— Marge Meeh, Northern New Jersey, #11, 12/31/05
---
"Each year we contact all the high schools in our state (Michigan) that don't have a FIRST®team. We call it 'The FIRST® Awareness Program'. Next year we might consider sending out your DVD and CD (if you agree)."
— Pat Major, Goodrich MI, #494, 11/29/05
---
"Thanks a lot for Team in a Box! It arrived last week and the waiting was worthwhile. I have never seen something as good as this project. I enjoyed watching it and learned a lot, and I am sure it will be much help for many others."
— Christoph Siedentop, Cologne, Germany, 11/02/05
---
"I received Team in a Box today. Wow!! What an asset. I have only watched a few of the chapters, and I am impressed with the results."
— Rich Morgan, VEX Team #21, Beachwood NJ, 8/16/05
---
"You and your team have provided a wealth of information to those new to, or just getting started in FIRST®, like us! I really love the way this tool goes beyond just explaining the basic details, and really conveys the heart of FIRST® (i.e. through some really nice interviews). I also find the time-lapse video very cool and illustrative. It will take me several more viewings and some thought to find areas to improve, but I will try. As our team comes together, I will try to keep asking, 'how does this Team in a Box address this problem or question we have', and try to note these thoughts for you. Great job! I can only try to appreciate all the work it took to provide us with the amazing resource."
— John Wanninger, Oak Creek WI, 8/03/05
---
"Wow!! What an asset. I have only watched a few of the chapters, and I am impressed with the results. This will help launch my FIRST® team on the road to Atlanta in their Rookie Year!!!"
— Rich Morgan, Beachwood NJ, FVC® Team #21, 5/10/05