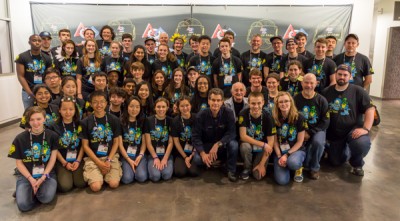 Team 341, Miss Daisy competed at the FIRST Robotics Competition World Championship in St. Louis, Missouri from April 27-30th. Miss Daisy joined 600 of the top robotics teams from around the world as she competed in her last official event of the season. During qualification matches, the team finished with a record of 9 wins and 1 loss. Out of the 75 teams in the Galileo division, Miss Daisy was one of 3 teams to achieve this top-ranking record, seeding 6th overall, and earning a selection to join the #2 alliance for the playoff tournament.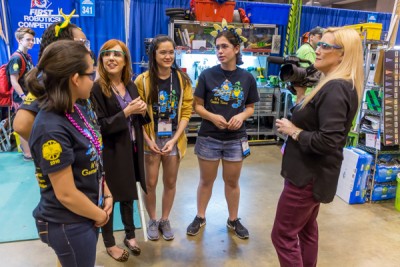 During the elimination matches, Miss Daisy performed admirably, shooting high goal after high goal while her partners shuttled balls, played defense, and scored high. Our alliance partners were from around the world, including Team 3683 (Waterloo, ON), Team 2383 (Plantation, FL), and Team 4525 (St. Thomas, ON). The team was victorious during quarter final matches but fell in the semi-finals of our division due to alliance electrical issues. Fun fact: on Wednesday morning 2 of our mentors helped Team 4525 fix their robot so they could compete. Who knew we would eventually have them as our alliance partner?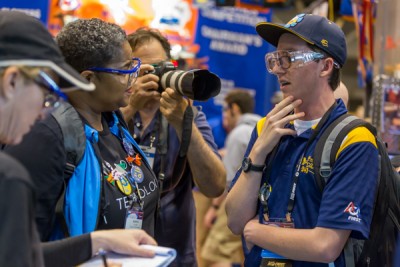 Overall, the World Championship was an amazing event. Our pit was a bustling flurry of activity as team after team visited with our coaches and students asking all sorts of questions about how we structure our media team, how our student leadership is developed, and how we made strategic decisions about our robot. In fact, Miss Daisy was so popular this year that we ran out of 1,000 team pins in just 2 days.
Our students faced a grueling 4 days of competition, but every subteam was up to the task: our scouting team was completely self-sufficient and tirelessly captured data on every single robot for every single match; our public relations team fielded questions from hundreds of visitors and sponsors; our media team coordinated across venues to capture every minute of the action; our pit crew kept Miss Daisy running in tip-top shape while helping others along the way; and our drive team showed their stuff on the field under immense pressure and blinding spotlights.
Special thanks to our sponsors who visited us during the event, including Comcast NBCUniversal, BAE Systems, and the Society of Women Engineers, to name a few.
Thank you to our coaching staff for being on their feet for 4 days straight, unloading and loading trucks worth of equipment, running errands all over town, and always being helpful in the heat of competition: Mr. Ostrow, Lou, Frank, Adam, Sean S., Jenni, Sean B., Scott, and Christa; and to our coaching staff cheering us on from home: Kara, Vania, and Haroon. Thank you to Mr. Tan who had his first Championship experience as a chaperone and enjoyed every minute of it.
What an amazing competition to cap off an amazing year!