After two months of hard work, we have completed the preliminary submissions for each of this year's challenges: the Innovation Challenge, the Game Design Challenge, and INFINITE RECHARGE at Home. These challenges were accomplished almost entirely virtually—it was very different from the average season, but we are super proud of what we have created and are excited to share it with you!
INFINITE RECHARGE at Home 
Using last year's robot, Miss Daisy XIX, we completed the first of our three challenges: INFINITE RECHARGE at Home. This challenge was designed for teams to show off last year's hard work with minimal to no in-person interaction. We started by collecting our favorite photos of our robot (she's very photogenic), which included action shots from our only competition of 2020.  We also updated our CAD and created some amazing new renders of the full robot and each of her mechanisms. We put these to good use on our robot flyer, which judges will review for a comprehensive look at our robot.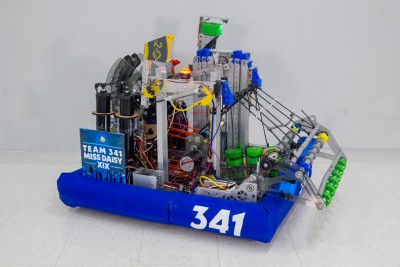 Just two weeks before our submission was due, we were allowed to meet in-person with a limited crew! It was the first time we have been able to do so since March of 2020. With this time, we made some repairs to the power cell intake, took some fresh photos, and filmed our autonomous routine. 
We will be using upcoming in-person sessions to film our Skills Challenges, which include both autonomous and teleoperated tasks. After we refine these challenges as much as possible, we will send the videos and self-scores off to judges, where we will be compared to other teams for awards.
Watch our 2021 INFINITE RECHARGE at Home Autonomous Routine!
Game Design Challenge
The Game Design Challenge served as an opportunity for our strategy team to put their vast knowledge of FIRST® Robotics games to use. Together, we ideated and developed an entirely new FIRST® Robotics Competition game–Miss Daisy is proud to present HyperHive!
In this game, bee colonies are in dire need of help. Robotic bees have been sent into beehives to fortify the hive by scoring nectar (tennis balls) onto the high goal or into the low goal, and by delivering combs (18" rings) to the human player station. At the end of each match, the bees must move to the center of the hive and hang on one of three bars at different heights. 
We focused on five key elements: human player involvement, dynamic strategy, cooperation, simplicity, and the accommodation of teams with a diverse array of technical expertise and experience. These focuses guided the development of our game, and are accounted for in the final version. For a more in-depth look at our game, here is the game animation our media team put together!
Innovation Challenge
Finally, our team also took on the Innovation Challenge. At kickoff, we were sent off to "identify a problem or opportunity and design a solution to help people (or a community of people) keep, regain, or achieve optimum physical and/or mental health and fitness through active play or movement." As a team, we spent weeks brainstorming problems in the realm of active play and movement. We consulted professionals, conducted interviews with all kinds of people, and did plenty of research. 
We organized a focus group with physical therapists and people representative of our target audience. Afterwards, our team decided to move forward with finding a way to provide mobility-impaired people with the opportunity to actively climb the stairs. At present, there are limited solutions for those who struggle to ascend or descend the stairs. Together, we identified several market needs and designed ActiveAscension.
ActiveAscension allows the user to independently regain and maintain the ability to climb their in-home stairs. It features a carriage with two steel bars, which the user can push up and down the stairs as they climb. An accessible harness and a clutch similar to that of a seatbelt braking mechanism alleviates the fear of injuries from falling. ActiveAscension also has clamps for users to attach their walker and hooks for other assistive devices, which allows them to transport these devices between floors. The installation process for ActiveAscension is much less invasive than that of current market options, considering it is an entirely passive mechanism. 
After weeks of iteration, we finalized our design for ActiveAscension in OnShape, a cloud-based collaborative CAD platform. We 3D printed our centrifugal clutch to better visualize our design, and continue to find new ways to bring ActiveAscension to life.
Soon, all of our challenge groups will be presenting our final products to judging panels. For now, we are preparing for these presentations by practicing, practicing, and practicing some more. It has been amazing to have the opportunity to get innovative, albeit unconventionally. We can't wait to present our creations to the judges by mid-April!