At 5:45 AM, in the dark of the Wissahickon High School parking lot, Team 341 Miss Daisy stood waiting for their bus to their first off-season competition in a year and a half. Our anticipation was apparent, even through our masks. But, after 30 minutes of drinking Starbucks and huddling for heat, we soon realized no bus was coming to get us. In true Miss Daisy fashion, we improvised, adapted, and survived. Parents got up from their slumber to drive Team 341 across state lines to Carney's Point, New Jersey to compete at Duel on the Delaware.
Duel on the Delaware is an annual off-season competition, which was one of the many things shut down in 2020 due to COVID-19. This year was the first time Miss Daisy was in attendance since 2019. Rookies, veterans, and coaches were thrilled to immerse themselves in the competitive atmosphere of FIRST. It was a first for everyone, whether it was first ever or first in a while.
As soon as we reached the competition venue, Miss Daisy fell into the natural routine of unpacking and setting up. Tarps flew off equipment, cameras unzippered from their cases, and robots were wheeled into place. We quickly made friends with our neighboring pits, exchanging necessary tools, tips, and hellos.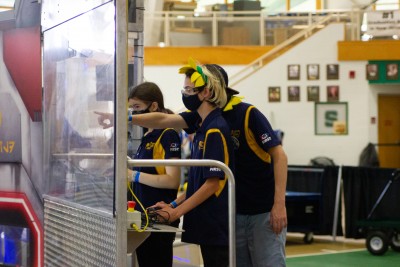 Some dust was definitely evident on our gears, but Miss Daisy took no time to brush it off and get on with the competition! Although the robot's autonomous programming performed well during some matches, it was not up to par in others. We dealt with ball jamming the entire competition. Although the robot only shot a few balls, each ball was shot with high accuracy. Despite any challenge, we persevered. The pit crew got to work by increasing the size of our intake to prevent jamming, tightening our pulleys, and performing long-awaited maintenance. We ended quals in 10th, having won two matches out of six. 
Then came alliance selection. We walked in with some confidence of being picked, but nothing was certain. As alliance captains and partners walked up to the field, we waited in anticipation for our pick. With some negotiating done by our strategy captain: MOE 365, who we won Hatboro Horsham with in 2020, and Redbird Robotics 1807 picked us during alliance selection. It was nice to pick up where we left off with MOE and plan our next win with Redbird Robotics. In a huddle with our newfound allies, we jumped straight into strategizing how we could get through the round robin elimination. 
With our brains stacked together, we formulated an amazing strategy that helped us overcome the round robin. We played extremely well during the first two matches, winning by substantial margins. Even though we lost the last round robin match, we secured our spots in the finals! 
Unluckily for us, the robot's connectivity issues reached their peak during the finals. In our first match, we only had the opportunity to shoot two balls before the robot disconnected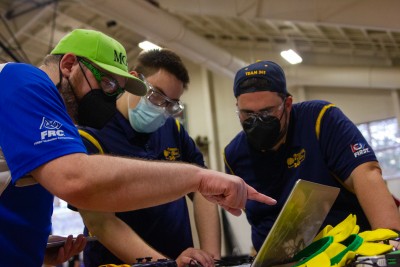 from our controllers. Our dilemma demonstrated the true spirit of FIRST: altruism. Teams outside of our alliance came over to look at our programming and robot in an attempt to get us up and running. We tried adjusting our VRM, our power switch, our power over ethernet, but none of these prevented our robot from freezing on the field. We had no option but to push forward.
But we did more than hope; we believed. A dead robot and a few hours of sleep is nothing for Miss Daisy. Our drivers exchanged high fives and confident affirmations with our alliance partners and turned their eyes to the field. Our autonomous programming started off strong; we shot two balls almost immediately and then drove past the line to play defense. Knocking bots with the opposing alliance, we effectively pushed them back. At the height of the drama, we lost connection for forty seconds. Then sputtered back to life momentarily, only to lose connection again, rendering us immobile for the rest of the match. Our last elimination match ended dramatically as MOE's arm tore off in an attempt to climb during the endgame.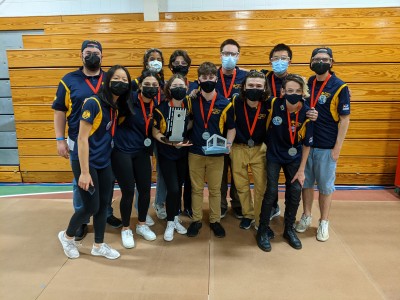 Despite what may seem like a disappointing ending, we were elated to have made it so far! Our excitement was even more obvious when our team representatives came back from the award ceremony holding Finalist medals and a trophy in their hands! 
Duel on the Delaware was truly a test of resilience. Although we were faced with what seemed like an unsolvable problem, we stayed strong. A quote from Bear Grylls (the blueprint for improvising, surviving, and adapting), best summarizes our mindset: "Keep focused on the step in front of you. Nothing else matters." 
We rode back home, decorated in medals, ready to tackle any challenge that will cross our path again.