Ladies and gentlemen, fasten your seatbelts and get ready for takeoff!
Saturday, January 8th, Miss Daisy prepared for our 23rd annual kickoff! 
Although we had to do kickoff virtually last year, this year we were lucky to have the opportunity to continue our old traditions–although a little modified.
Spaced out every other seat per COVID precautions, we sat down in our high school's Audion to view FIRST's kickoff live stream where they announced the game for 2022: Rapid React. Teams are tasked to build a robot that shoots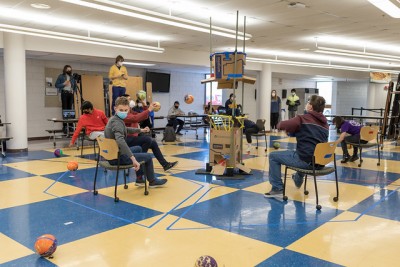 basketball-sized balls into a hub in the center of the field, and to climb bars of different heights. In classic FIRST style, they introduced a unique twist to climbing that hasn't been seen since 2013. Robots must pull themselves up onto a bar and proceed to optionally monkey bar themselves an extra two bars in order to score more points.
Through the mock game, we got a sense of what game strategies would be the most effective and how alliances may work together during a match. We took that information and strategized in small groups the next day. Groups presented their best ideas and advocated for their potential designs. Next we voted on our biggest priorities in the game and for this season's robot with our weighted objective table.
The table allowed us to reach a consensus on our goals for the season, however it began an extended discussion on our needs for this year's scorer. The team seemed split between a high ball scorer and climbing less bars, or a low ball
scorer and climbing more bars. After we resolved that issue through some careful voting matrices, a debate between tank and swerve drive took its place. Veterans, rookies, programmers, build members, and media members discussed at length the pros and cons in and outside of robotics. It took us four days to make a final decision, via a team-wide Google survey. In the end, we were able to unite as a team and put our own individual wants aside for the whole team's needs!  
Afterwards, we divided into our respective subsystem groups and began prototyping possible mechanisms using wood and cardboard. The media and PR teams are also hard at work, drafting awards essays and editing videos. Rookies and veterans alike have been taking a step up to contribute already! 
Although it's been two years since, the rush of build season hasn't taken any time at all to get used to! Team 341 is boarding and ready for takeoff!