Gather round young ones, let us tell you tales of the second week of build season.
The shop was filled with the scent of sawdust and the vibes of joyous children.
Up in the little room, N03, the programming team was making dreams.
With the swerve bot taking its first steps, an auton path was set to be complete!
As Thursday swung around the team was given a surprise,
as when they woke up their drive base had arrived!
Thankful for Computer Components Corporation with their three day turnaround time,
spirits were lifted higher than ever and it became crunch time.
Down in the FabLab the build team had been going through prototyping,
to pick their final designs by Sunday evening.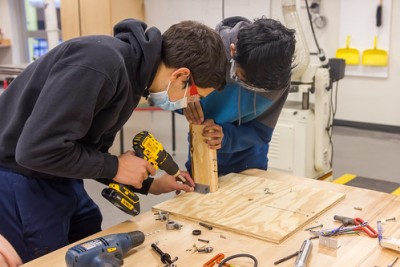 Many suitors had hoped to charm the princess Miss Daisy,
two from the Kingdom of Ball Path,
and six from the Kingdom of Hangar overseas.
Many challenges were put forth to the suitors,
and if they failed they would be thrown in the sewer.
Prince Sloth of Hangar took up too many of the land's resources using a few too many pistons. He was cast off on day two, and the the Princess moved on too kick off three more suitors with a phillip screw
Sir Rolo Claw and Duke of Telescoping were the only two left standing at the end of the week.
For they had a nice physique
And they were unique!
Meanwhile
Princess Media of Miss Daisy was busy creating stories for the land
And Lady Public Relations was stuck in quicksand
Writing essays for the motherland!
The robot of kingdom daisy was coming together!
Next week will decide who will be the possessor
Of Miss Daisy's hand!