This blogpost was written by Ryan B., Eugene J., and Kevin L.
An evil roamed the streets of Ambler. A lighting storm was brewing over the school. Team Miss Daisy had to quickly assemble.
Electro (the Electrical Team) was in their lab wiring the drivebase. 
Miss Daisy looked for a strong and reliable foundation for the team. She knew that Dr. Drivebase would be perfect with their ability to create strong bumpers. With Electro's power to control thunder and lightning by connecting wires, it was just the spark they needed to become an unstoppable duo. 
Next on Miss Daisy's list was Intactical. She knew he was super versatile and perfect for the squad because they built the competition intake. Intactical's mentor, Iron Man, also joined the team. They were the brains of the group because they completed the great reset of organizing their code and traveled to the 103 warehouse where they did a full game set up. The robot was successfully able to score three cones and drive around. 
Next, Miss Daisy needed to find a lookout: She recruited Hawkeye to join the team. They contributed by developing a
presentation for pit scouting, working on getting the scouting app hosted by the website, and are looking for more scouts. Of course, the team also needed some combat expertise, and Median was perfect for this role. They demonstrated their skills through the full season robot video, working on the daisy awards, and the marvelous weekly vlog. And what better to mirror combat than magic: Public Relando decided to join the team too. Public Relando finally submitted their impact award essays after lots of editing and outside school sessions. Now, they are working on a groundbreaking presentation and have also started the design binder and sustainability plan. 
Combat, magic, and all that they needed now to create the power trio was science. Miss Daisy looked into her pot, and found Wristman, ready to fight. Although the wristman had a problem with too much backlash, they solved the issue by choosing hex shafts with a tighter fit. They also decided to go from a 90 degree motor to a horizontal stage motor. Finally, the wristman mounted everything to the roller claw. All Miss Daisy needed now was the one to lead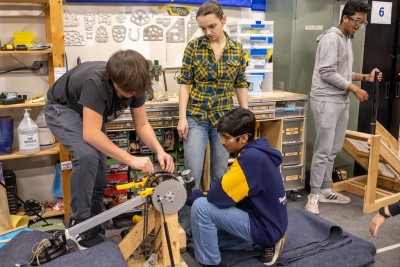 them all: a captain that everyone could get behind; and just as she thought of this, a shield landed right beside her, "on your left!" Armania had arrived with their impeccable skills of assembling! Now this was a truly unstoppable team, capable of getting out of any predicament it came upon. No tricks would get past them.
But just then, Loki appeared! The trickiest of them all, the Trickster God! This would be Miss Daisy's toughest challenge yet. But with a team such as this one, she knew that they were ready for any challenge ahead!